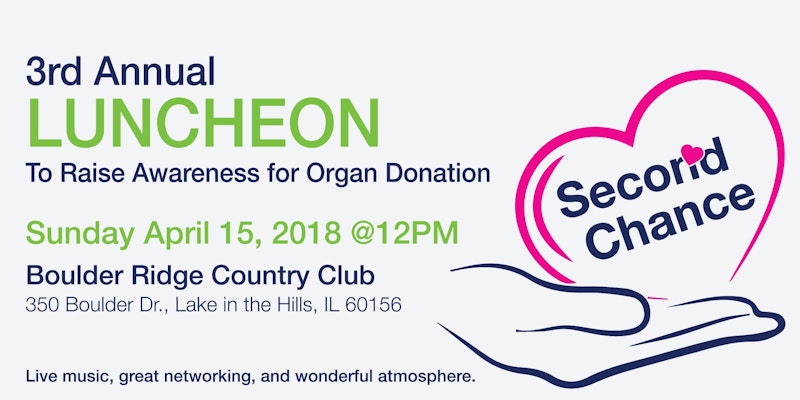 This April, don't be a fool!  Instead, plan on meeting the staff and contributing writers of NetEducate along with a variety of other patrons for the Second Chance Luncheon hosted by Transplant Life Illinois.  This is a charity event aimed to build awareness for organ donations, and celebrates the lives of those involved in the organ transplant community.
First announced by Brad of Brad Szczecinski Consulting, the event is getting buzz across the web as people are anticipating the event which will feature "live music, great networking and wonderful atmosphere."  There are several guests planning to attend the event, including, Dr. Maria Sienionow of University of Illinois at Chicago and Laurie Dickinson Lee whom is a living kidney donor will to share here very personal experience with the guests.
The event is being held at Boulder Ridge Country Club in Lake in the Hills, Illinois and the event is on April 15th, starting at noon.  Parking is available in the lot out front, and we encourage you to bring some extra cash for door prizes and donations, if you feel the urge!
This is the third year the Second Chance Luncheon has taken place, and it's going to big the biggest event yet!
These types of events really help to raise awareness, and donations for the organization.  The events help to continue to build awareness about the organ donors community.  Each year, awareness increases and the event helps to honor those either on the giving or receiving end of organ donations.
Brad Szczecinski is a big advocate of organ donations, and you can learn more about his inspirational story here.  Brad will joining the event, and has a special guest to present during the event.  When we spoke with Brad, he mentioned, "I have something very special– very special for this particular event."  Knowing Brad, there's no telling what exactly is in store, but one thing is for certain– it's a surprise!
We know some of the readers aren't located in the Greater Chicago area so that's why we plan to livestream the entire event on event day.  Keep this post bookmarked, because we will be embedding the live video stream on this post!
If you'd like to contribute to the event, but aren't in the area, we encourage you to reach out to organization and see how you might be able to help.  These are the types of events we like to highlight– the community events which promote happiness and well being!  If you know of an upcoming event that you'd like featured on this blog, please reach out today!
Here are some helpful links:
Second Chance Luncheon event link.
Map to Boulder Ridge Country Club:

Map to Brad Szczecinski Consulting :
See you there!